Click on any of the links below to take you to additional information about the subject listed. Please don't hesitate to call or drop us a note if you have any more questions.
Ever since the 15th century when the first diamond engagement ring was given to Mary of Burgundy by her fiancŽ Archduke Maximilian of Austria, diamonds have been associated with weddings. But it took another five centuries before new deposits in Africa and improved cutting techniques put these gems within the reach of most people.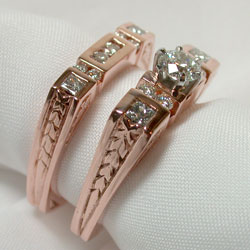 Diamonds make a perfect choice due to their purity, hardness, rarity, and most important, beauty. Those desiring an alternative gem have many fine choices too. Either way, make sure your final decision is based on information from a trusted professional. Look for certification theyÕve received from institutions such as the Gemological Institute of America or the American Gem Society. Get a guarantee in writing that what youÕve been sold is what youÕve received. And it also often helps to ask others who have purchased wedding jewelry what their experience was like. Your wedding rings are a symbol of your love for each other; selecting them should be a enjoyable experience!
Which brings us to the rings themselves. Ask yourself if youÕd like to purchase them already completed (or partly so), or would you rather have them designed specifically for you? Custom made jewelry may sound challenging to someone whoÕs never done it before, but itÕs easier than you may think. Advantages include not having to spend time in different stores searching for the rings you want (and possibly needing to settle for something different). Also, thereÕs no price you can put on the difference you can see in a custom made ring, where extra care was put into designing and creating it, one ring at a time. If it truly is custom made, it will be one-of-a-kind, and youÕll usually be able to see a wax model carved for your approval before itÕs converted into precious metal. Again, make sure your jeweler will give you a guarantee on their work.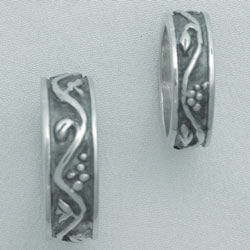 A good jeweler can help you with many other questions, such as:
Å Can I design a band to go with my engagement ring that will also look nice on its own?
Å How can I set this diamond so that it looks its best but is still safe?
Å Do I need an alternative to prongs if IÕm hard on my jewelry?
Å What can I do to make my jewelry distinctive yet not get tired of it in years to come?
Å Should I request a comfort fit profile on the inside of the bands?
Å Why is platinum suddenly so popular; is there reason to think this will last?
Å How can a wedding band be designed for my heirloom engagement ring?
Wedding jewelry can also include gifts for members of the wedding party, sometimes family members, as well as the bride and groom. We can offer you many ideas here for lasting memories of the day.