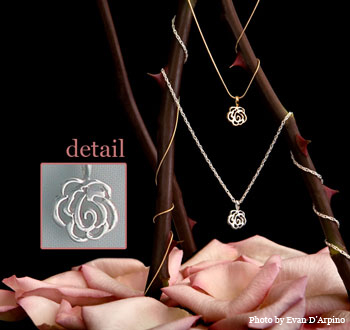 In the fall of 2007, long-time customer Claudia Burtman came to me and asked if I would be interested in designing a small pendant to benefit the Cystic Fibrosis Foundation. Cystic fibrosis (CF) is an inherited, chronic disease that affects the lungs and digestive system of about 30,000 children and adults in the United States.
A close friend of Claudia's daughter is affected by CF, and people from the community have gathered to show support for Nell Pritchard and to raise funds towards a cure for the disease.
Many years ago, a young boy who could not pronounce the disease that affected him, referred to it as "65 Roses" which has become a trademark of the Cystic Fibrosis Foundation. When asked to come up with a rose design, I kept going back to that idea. The result has been this custom designed pendant, a stylized rose in bloom with a "65" gently tucked in the center. On the back I have inscribed a "CF" on each one to remind us of our fervent hope for a "cure found".
14K WHITE or YELLOW GOLD
Pendant
$175, depending on current price of gold
STERLING SILVER
Pendant
$60
All the profit from the sale of each rose goes to the Cystic Fibrosis Foundation, and as of 2014, over $10,000 has been donated to CFF. Pendants (we've also made earrings, cufflinks and charms) are available by visiting the shop or by calling 518-765-3750.
Chains or leather cord are available at an additional cost. The pendants can can be gift wrapped and mailed to you if you'd like.